Linkin Park Tribute Show
Performers :

Ramzes Project

Starting at :

21:00

Price :

100 MDL
[RO] Ramzes Project va asteapta pe 12/11/2017 la un tribute concert LINKIN PARK in memoria lui Chester Bennington la Karaoke Concert Hall Atrium
Un program vast cu toate hiturile si piesele cunoscute a legendarei trupe din albumele:
Hybrid Theory
Meteora
Minutes to Midnight
Living Things
A Thousand Suns
The Hunting Party
One More Light
Ne vedem acolo!

[EN] Ramzes Project presents:
Ladies and Gentleman, we proudly present a project we have been working on for a while!
Linkin Park Tribute Show in memory of Chester Bennington will gather up to 30 songs covered from every LP album:
Hybrid Theory
Meteora
Minutes to Midnight
Living Things
A Thousand Suns
The Hunting Party
One More Light
The show will pay tribute to one of the most influential vocalists of Rock music – Chester Bennington, who tragically took his own life battling depression, drugs and alcohol on July 20, 2017.
Location – Karaoke Concert Hall Atrium
Time – 21:00
Date – 12/11/2017
Line-up on 12/11/2017:
Roman Siloci – Vocals
Radu Zariciuc – Vocals
Nike Stoyan – Guitars and Vocals
Maxim Bulat – Guitars
Eugen Berdea – Drums
Dmitrii Berdea – Drums
Taras Blajco – Bass
Dmitrii Odainic – DJ
General Media Partners:
Muz FM
Русское Радио Молдова
Bring your friends, collegues and everyone you can think of and let's celebrate Chester's amazing life and career!
See ya there!!!
Another events
16 Mar
2019

Alternosfera – lansare de album la Chișinău
Hala Moldova Film
Șos. Hâncești, 61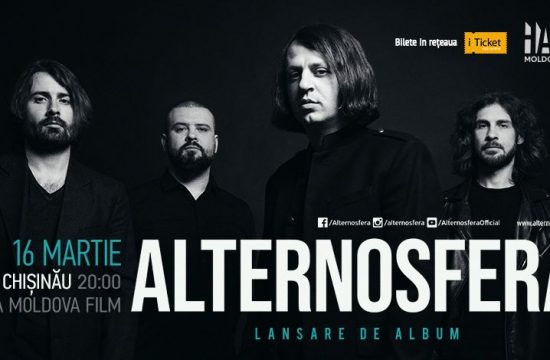 Performers :

Alternosfera

Starting at :

20:00

Price (Early Bird - First 200):

250 MDL

Price (Presale):

300 MDL

Price(Event Day):

400 MDL
Alternosfera lansează un nou album pe 16 martie la Hala Moldova Film din Chișinău. Primele 200 de bilete au pret special.
După o pauză concertistică de peste un an, timp în care s-a lucrat la un nou material, Alternosfera revine la începutul anului 2019 cu un nou album. Acesta va fi cel de-al VI-lea material discografic și este prilejuit de aniversarea a 20 de ani de la înființarea trupei. La Chișinău, concertul de lansare va avea loc la Hala Moldova Film, pe 16 martie 2019, de la ora 20.00.
Primele două piese de pe următorul album, Lucis și Fântânile, au fost deja lansate însoțite de videoclip.
09 Mar
2019

Prăpăd III / Rotting Christ /
BandabaR
str. M. Eminescu, 55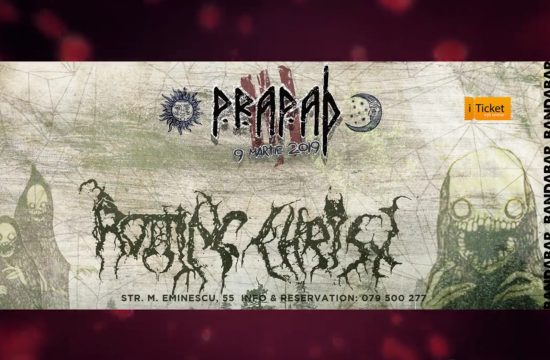 Performers :

Self Programmed Deaf

HARMASAR

1914

Rotting Christ

Starting at :

19:00

Price(Pre Sale)

250 MDL

Price :

300 MDL
02 Mar
2019

Mărțishow 2019
CLUB SEVEN
Str. București, 68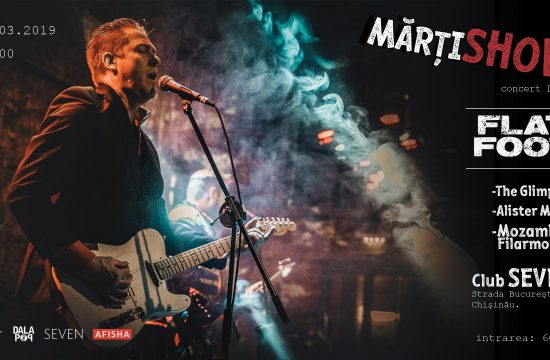 Performers :

Mozambic Filarmonic (Chișinău)

Alister Mars (Bălți)

The Glimpse (Chișinău)

Flat Foot (Suedia)

Starting at :

19:00

Price :

60 MDL
Dragi prieteni,  Sîmbăta 2 Martie, vă așteptăm la Mărțishow! Ce este Mărțishow? Este rock and roll, tradiție, mister! Atenție! Misterul apare a doua zi după, cînd nu poți să-ți aduci aminte ce ai făcut după concert. În ce privește tradiția și rock and roll-ul, acestea vor fi asigurate de trupele naționale și internaționale:
Flat Foot (Suedia) – Flat Foot au fost observați pe drumuri încă din 2007, cântând la diferite festivaluri, în multe cluburi, pe arene mari, la TV și radio în țări ca: Statele Unite ale Americii, China, Austria, Germania, Olanda, Belgia, Finlanda, Estonia, România, Moldova și, desigur, în Suedia.
The Glimpse (Chișinău)– Stegarii pop-punk-ului moldovenesc! Chiar dacă ai picioru-n ghips te fac sa sari în sus. Vezi aici:
Alister Mars (Bălți) – Industrial Rock de Bălți, cîștigătorii ediției POT Music 2018, participanți a festivalurilor internaționale Sea Side Festival, CuaȘela, Desert Măr, Rock an Drii.
Mozambic Filarmonic (Chișinău) – Mozambic Filarmonic este o formație care există în realitate. Misiunea nobilă fiind lărgirea spectrului cultural al audiențelor din spațiu si împrejurimi.